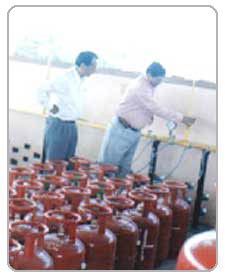 LPG Bottling Plants (Micro) are installed in accordance to Oil Industry Safety Directive (OISD-169) on turnkey basis including filling of 1st Batch of 500 cylinders.

• LPG Bullet Installation (As per customer's requirement)
• Filling Guns – Manual
• Unloading Pumps, Transfer Pumps, etc.
• LPG Recovery compressor, Air compressors.
• Complete set of Ball Valve (fire safe), Non Return Valves, Strainers.
• Complete Inter-connection Piping.
• Flame Proof Lighting inside Yard.
• Electrical Control Panel + Remote Operated Valves For
Emergency Tripping
• Fire Fighting Pump, Electrical Driven + Diesel Driven.
• Complete Fire Fighting Equipments.
• Dip Testing unit, Leaky cylinder evacuation unit.
• Testing & Commissioning of the entire systems.