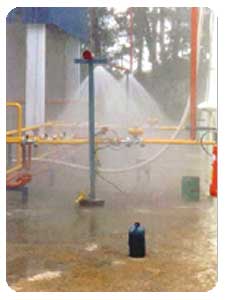 • Bulk LPG Installation can be Designed, Supplied, Installed & Commissioned on
turnkey Basis In Accordance to Explosive Norms/Local Statutory Requirements.
• In today's modern scenario LPG (Liquefied Petroleum Gas) is the most easily available & economical fuel for all heating application of various industries. LPG has a better Calorific Value in comparison to LDO, HSD, FO, LSHS, etc conventional fuels.

TURNKEY INSTALLATION COVERS:
• Design & Drawing for the entire LPG Yard as per Statutory Requirement.
• Fabrication of Pressure Vessel as per Fabrication Codes.
• Supply of complete Tanks, Pumps, Compressor, Vaporizers with
capacities invitable for individual company requirement.
• Erection of complete system with Inter Connection Piping, Earthing of
complete system, Dedicated Control Panel for the LPG Yard.
• Rule 33 Certification by competent person certified by Indian Explosives.
• Commission of the entire system with unloading of the product from
Road Tanker.